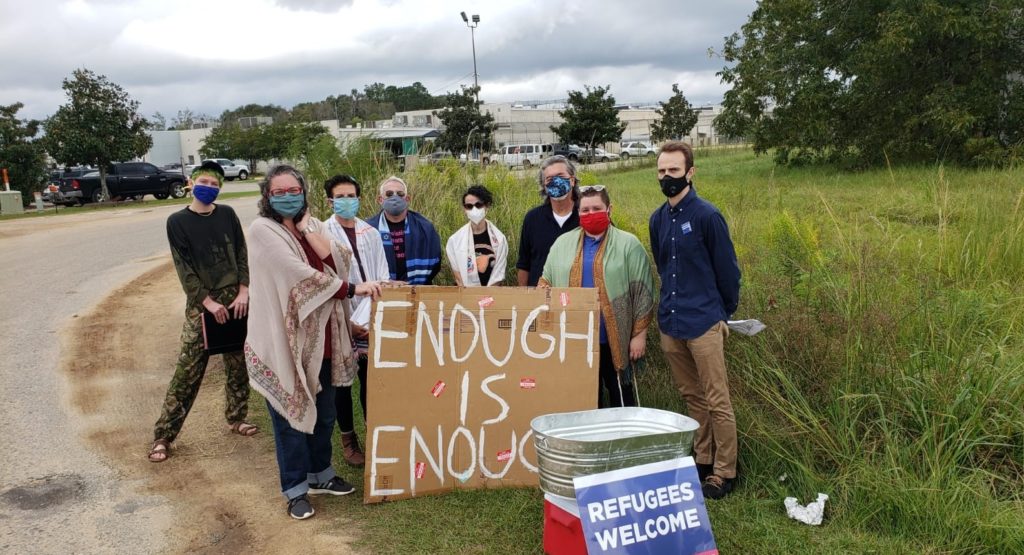 End Immigration Detention
Immigrant Detention Degrades But Does Not Deter
Immigration detention in the United States is an affront to the values of people of faith.
Locking up people who flee their countries to seek safety in the United States is immoral, cruel, and expensive. The United States taxpayer spends more to incarcerate immigrants than on any other enforcement practice. Despite the enormous per capita expense, immigrants languish in overcrowded, unsanitary, and unsafe conditions. They are often prevented from communicating with the outside world by phone or mail, making coordination with legal counsel or contact with family members virtually impossible. Immigration detention is as unnecessary as a deterrent as it is unjust: the vast majority of immigrants released in communities (instead of being detained) return for their appointed court hearings.
At Bridges Faith Initiative, we acknowledge our shared humanity with immigrants in detention and seek to end the degrading practice of detention once and for all. Until then, we stand in active and prayerful solidarity with those in detention.
Women's Health in Detention
Women face unique hardships and health risks in detention, ranging from sexual exploitation to medical procedures performed unethically without proper consent. The recent news of medical abuse in Ocilla, GA's Irwin County Detention Center demonstrates how immigrant incarceration, by design, creates the conditions for immigrant women's exploitation. Though the story at Irwin is particularly egregious, it is far from the only case of improper medical conduct on detainees.
Women who speak up against unhygienic practices and medical abuse face retribution, including swift deportations, that make thorough investigations and justice elusive. We cannot allow female detainees' psychological, medical, and physical trauma to continue in our names.
Bridges Faith Initiative see cases of medical neglect and abuse as symptoms of the longstanding systemic issue of dehumanizing immigrants, particularly women of color. We are on the ground in Ocilla to support to these women and are advocating for change before Congress. Join us.
Congressional Actions
We are tracking Congressional actions on medical abuse in immigrant detention at Irwin and beyond. We want justice and compensation for the harm caused to these victims and significantly stronger human rights protections and oversight to prevent future abuse.
Casting Off Sins at Irwin County Detention Center, Georgia
Tashlich is a Jewish Rosh Hashanah ritual in which Jews symbolically cast away the sins of the previous year by tearing off pieces of bread and throwing them into water. Watch Bridges Faith Initiative President, Rabbi Joshua Lesser, conduct Tashlich in front of the ICDC on September 25th, 2020 as a ritual reckoning of our failed immigration detention system.